Julius Axelrod Award 2007
Tong H. Joh, PhD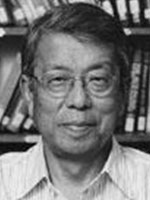 The late Julius Axelrod, Ph.D. received the Nobel Prize in Physiology or Medicine in 1970 for his pioneering research on catecholamine neurotransmitters, a group of chemicals including adrenaline, noradrenaline and dopamine. He was an inspiring and indefatiguable investigator in neuroscience and pharmacology throughout his lifetime and well beyond his "official retirement". Julie contributed much to our understanding of brain chemistry and how brain cells communicate with one another. Those findings laid the groundwork for present day treatment of behavioral disorders such as depression and anxiety. A humble man who preferred the "bench", to the "limelight", Julie is also know as a mentor of another generation of successful researchers, who carry on the "torch" of scientific investigation and pursuit in the style instilled in them while an Axelrod mentee. The Julius Axelrod Award was established in 1991 by the Catecholamine Club. It continues to recognize outstanding contributions in research and mentoring in the Axelrod tradition as the Julius Axelrod Award in Pharmacology under the flagship of the American Society for Pharmacology and Experimental Therapeutics (ASPET). In this 2007 inaugural year, Julie's legacy is honored by the selection of Tong H. Joh, Ph.D., scientific investigator and mentor in neuroscience and pharmacology.

Dr. Joh, currently Professor Emeritus of Neurobiology, Weill Medical College and Graduate School of Basic Medical Sciences at Cornell University, used Julie's early findings as a stepping-stone to vastly expand our knowledge of catecholamine neurotransmitters. The latter is evidenced by his prolific contributions. Initially, he led the way to the development of critical tools for investigating catecholamines and the proteins responsible for producing these chemicals, including antibodies and molecular biology reagents. Using those tools he paved the pathway for our understanding of the development of the catecholamine network in the brain and nervous system, the factors controlling catecholamine expression and the role of catecholamines in stress and hypertension. It is not surprising that these pursuits led him down the road to "translational neuroscience" where those earlier fundamental discoveries are now being applied to understanding neurological disorders and diseases.

Like Julie, Dr. Joh has been a remarkable and dedicated mentor to doctoral students, post-doctoral fellows and junior faculty. He has served as mentor and role model well beyond the domain of his own research group as well. To all that he has touched, his enthusiasm and excitement for science has captivated, intrigued and motivated many to step up to the challenge. His style, like Julie's, is gentle and humble, but directed and determined.

It is these traits of scientific and mentoring excellence that have led to the selection of Dr. Tong Joh as this year's Julius Axelrod Award recipient. He will be presented the Axelrod award and medal at the annual meeting of ASPET on Sunday, April 29, 2007, at which time he will deliver the Julius Axelrod Lecture. In addition, Dr. Joh will be honored at the annual Catecholamine Club Dinner Meeting where he will present an anecdoctal recount of his lifetime journey through science.