Julius Axelrod Award 2010
Brian K. Kobilka, MD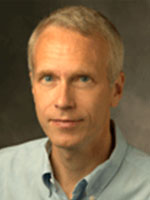 Dr. Brian K. Kobilka has been named the 2010 recipient of the Julius Axelrod Award in Pharmacology by the American Society for Pharmacology and Experimental Therapeutics (ASPET). Dr. Kobilka is a Professor of Medicine and Molecular and Cellular Physiology at Stanford University. His research interest is in the area of the structure and mechanism of action of G protein-coupled receptors, with a focus on adrenergic receptors as model systems.

The late Julius Axelrod, Ph.D. received the Nobel Prize in Physiology or Medicine in 1970 for his pioneering research on catecholamine neurotransmitters, a group of chemicals including epinephrine, norepinephrine, and dopamine. He was an inspiring and unrelenting investigator in neuroscience and pharmacology throughout his lifetime and well beyond his "official retirement". Julie contributed much to our understanding of brain chemistry and how brain cells communicate with one another. Those findings laid the groundwork for present day treatment of behavioral disorders such as depression and anxiety. A humble man who preferred the "bench", to the "limelight", Julie is also known as a mentor of another generation of successful researchers, who carry on the "torch" of scientific investigation and pursuit in the style instilled in them while under Axelrod's tutelage. Julie's legacy is honored by the selection of Professor Kobilka for the 2010 Julius Axelrod Award in Pharmacology.

Brian Kobilka, like Julius Axelrod, is remarkable for his determination as a scientist and his accomplishments as a mentor. He has trained a multitude of graduate students and postdoctoral fellows who have gone on to prominent careers in industry and academia. His excitement for science cannot help but motivate others, and the breadth of his knowledge challenges trainees and colleagues alike to work to achieve the degree of scholarship and determination that has been the hallmark of Dr. Kobilka's career.

The early accomplishments of Dr. Kobilka include the cloning of the beta-2, beta-1, alpha-2A, alpha-2C and alpha-1B adrenergic receptors, as well as the 5-HT1A serotonin receptor. In an effort to understand the physiologic role of individual adrenergic receptor subtypes, his lab disrupted the genes for five of the nine adrenergic receptor subtypes in mice (beta-1,beta-2, alpha-2A, alpha-2B and alpha-2C knockouts) as well as various double and triple knockouts.

Dr. Kobilka's lab developed innovative spectroscopic methods to study G protein-coupled receptors structure and monitor ligand-induced conformational changes in real time. His results support a mechanistic model for GPCR activation where contacts between the receptor and structural determinants of the agonist stabilize a succession of conformational states with distinct cellular functions. More recently, he has obtained the crystals structures of the human beta-2 adrenergic receptor. These were the first high-resolution structures for a GPCR activated by a diffusible hormone or neurotransmitter.

Dr. Kobilka received his B.S. (Summa Cum Laude) from the University of Minnesota, Duluth, and his M.D. (Cum Laude) from Yale University. Following his residency at Washington University, he undertook postdoctoral studies with Dr. Lefkowitz at Duke. Dr. Kobilka's academic honors include the 1994 John Jacob Abel Award, which is also sponsored by ASPET, and a 2004 Javits Investigator Award from the National Institutes of Health.

The Julius Axelrod Award was established in 1991 by the Catecholamine Club. It continues to recognize outstanding contributions in research and mentoring in the Axelrod tradition as the Julius Axelrod Award in Pharmacology under the leadership of ASPET. Previous winners of this award include Randy D. Blakely, Ph.D. (Vanderbilt University) and Palmer W. Taylor, Ph.D. (University of California San Diego).