Julius Axelrod Award 2012
Gavril W. Pasternak, MD, PhD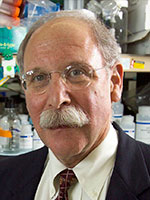 Dr. Gavril Pasternak has been named recipient of the 2012 Julius Axelrod Award in Pharmacology by the American Society for Pharmacology and Experimental Therapeutics (ASPET). Dr. Pasternak holds the Anne Burnett Tandy Chair in Neurology at Memorial Sloan-Kettering Cancer Center and is Professor of Neurology & Neuroscience, Pharmacology and Psychiatry at the Weill Medical School of Cornell University. He is recognized for his major contributions into the differential roles of opiate receptor subtypes in relieving pain with diminished side effects. The Julius Axelrod Award, named after the 1970 Nobel Prize winner in Physiology or Medicine, is given to recognize outstanding scientific contributions in research and mentoring in pharmacology. The Award was established to honor the memory of the eminent American pharmacologist who shaped the fields of neuroscience, drug metabolism and biochemistry.

Dr. Pasternak received his Bachelor's degree in chemistry at Johns Hopkins where he also obtained his M.D. and Ph.D. degrees and clinical training in neurology. Following completion of his neurology residency, Dr. Pasternak joined the faculty of Memorial Sloan-Kettering Cancer Center where he has remained.

Throughout his career Pasternak's research has focused upon characterization of opiate receptors. As a graduate student at Johns Hopkins University, he was part of the team that identified and characterized opiate receptors and showed how they mediate the actions of these drugs. In his independent laboratory at Memorial Sloan-Kettering, Pasternak focused upon subtypes of opiate receptors. Three principal types of opiate receptors had been discriminated and differentiated by pharmacologic analysis and molecular cloning as mu, delta and kappa, with the mu receptors being the principal mediators of analgesic effects of most opiates. Utilizing both ligand binding and molecular biological techniques, Pasternak uncovered several novel receptors derived by alternative splicing of the mu opiate receptor gene. His discoveries markedly altered our understanding of how opiates act and have led to novel, potent analgesics with markedly reduced side effects. One subtype of opiate receptor discovered by Pasternak responds more effectively to morphine than heroin, while another responds to heroin but not morphine. In recent research, by sculpting molecules selective for receptor subtypes, Pasternak has discovered new opiate drugs that are 100 times more potent than morphine with diminished adverse effects and do not appear to cause physical dependence.

Dr. Pasternak's accomplishments have been recognized by numerous awards including the Anne Burnett Tandy Chair in Neurology, the John Bonica Award, the S. Weir Mitchell of the American Academy of Neurology, fellowship in the American Academy of Neurology and election to the Johns Hopkins University Society of Scholars.