Julius Axelrod Award 2013
Lee E. Limbird, PhD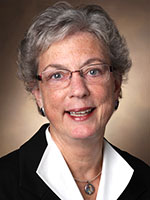 Dr. Lee Limbird, Professor of Biochemistry and Dean of the School of Natural Sciences at Fisk University has been named recipient of the 2013 Julius Axelrod Award in Pharmacology by the American Society for Pharmacology and Experimental Therapeutics (ASPET). Dr. Limbird is recognized for her major contributions to research and her outstanding leadership and mentorship to several generations of graduate students. The Julius Axelrod Award, named after the 1970 Nobel Prize winner in Physiology or Medicine, is given to recognize outstanding scientific contributions in research and mentoring in pharmacology. The Award was established to honor the memory of the eminent American pharmacologist who shaped the fields of neuroscience, drug metabolism, and biochemistry.

Dr. Limbird obtained her Bachelor's degree in Chemistry from the College of Wooster in Ohio and earned her Ph.D. from the University of North Carolina. After post-doctoral research at Duke University, she joined the Department of Pharmacology at Vanderbilt University, where she would chair the department and later serve as Vanderbilt University Medical Center's first Associate Vice Chancellor for Research. She represented Vanderbilt on numerous state academic partnerships. In 2005, she joined Meharry Medical College as Vice President for Research and Chair of the multidisciplinary Department of Biomedical Sciences. Dr. Limbird would move to Fisk University in 2008.

Since her post-doctoral fellowship at Duke under Nobel Laureate Robert Lefkowitz, Dr.Limbird's research career has focused on G-protein coupled receptors. Her research on alpha-2 adrenergic receptors is considered pioneering and showed how those specific receptors relate to regulation of blood pressure, sedation, pain suppression, and opioid drug action. She has also devised strategies for selective manipulation of these receptors, opening up opportunities for therapeutic development.

In addition to her many significant research discoveries, Dr. Limbird is credited with many for bringing Vanderbilt's Department of Pharmacology to its leading position. Her devotion to Vanderbilt's academic excellence, mentoring and nurturing of students, postdocs, and young faculty are legendary and extend to offering personal support for many student related activities including travel to meetings. While at Vanderbilt, she developed a partnership with Meharry's Department of Pharmacology to catalyze interactions between the two departments.

Dr. Limbird has been a recipient of many awards including ASPET's John Jacob Abel Award for young investigators and the Goodman and Gilman Award for Receptor Pharmacology. She has served on numerous NIH review committees and has been active in ASPET serving as Councilor, Secretary/Treasurer, and in other leadership capacities. She has received many teaching awards given by the graduate students themselves, and many of her own doctoral and post-doctoral students are among the most successful in academia and industry.

Dr. Limbird was presented the ASPET-Julius Axelrod Award in Pharmacology on Saturday, April 20 at the ASPET Business Meeting/Awards Ceremony of the Annual Meeting of the American Society for Pharmacology and Experimental Therapeutics/Experimental Biology (EB) 2013 Meeting in Boston, MA. The ASPET Business Meeting and Awards Ceremony took place at the Boston Convention Center, Room 107AB from 6:00 – 7:30 p.m. immediately followed by the Opening Reception. Dr. Limbird gave the 2014 Julius Axelrod Lecture. The 2013 Julius Axelrod Award Lecture was given by last year's recipient, Gavril W. Pasternak, Ph.D., of Memorial Sloan Kettering Cancer Center. Dr. Pasternak delivered a lecture titled, "No pain, big gain: Truncated mu opioid receptor splice variants as drug targets," on Sunday, April 21 from 2:00 – 2:50 p.m. in Room 107AB in the Boston Convention Center.