Julius Axelrod Award 2014
Jeffrey L. Benovic, PhD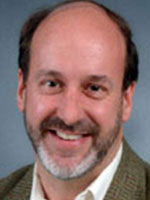 Dr. Jeffrey L. Benovic, Professor and Chair of the Department of Biochemistry and Molecular Biology and the Thomas Eakins Endowed Professor at Thomas Jefferson University has been named recipient of the 2014 Julius Axelrod Award in Pharmacology by the American Society for Pharmacology and Experimental Therapeutics (ASPET). Dr. Benovic is recognized for his major contributions to research and his outstanding leadership and mentorship to several generations of trainees. The Julius Axelrod Award, named after the 1970 Nobel Prize winner in Physiology or Medicine, is given to recognize outstanding scientific contributions in research and mentoring in pharmacology. The award was established to honor the memory of the eminent American pharmacologist who shaped the fields of neuroscience, drug metabolism, and biochemistry.

Dr. Benovic obtained his bachelor's degree in Biochemistry from Penn State University and earned his Ph.D. at Duke University under 2012 Nobel Laureate Robert Lefkowitz. Following a research associate position under Dr. Lefkowitz, Dr. Benovic moved to Temple University School of Medicine and subsequently to Thomas Jefferson University's Department of Pharmacology where he has served in a number of leadership positions including Director of the Molecular Pharmacology and Structural Biology Ph.D. Program and Leader of the Cancer Cell Biology and Signaling Program at the Kimmel Cancer Center.

Dr. Benovic's investigations opened up an entire new field of study. By applying biochemical approaches creatively and rigorously, he advanced our understanding of how G protein-coupled receptor function is regulated. In groundbreaking fashion, he demonstrated the biochemical mechanism of GPCR desensitization by G protein-coupled receptor kinases and arrestins. He discovered, purified, and cloned G protein-coupled receptor kinase 2 and characterized how it functioned in collaboration with arrestins to desensitize the receptors in a reconstituted biochemical system. Dr. Benovic ultimately discovered that ß-arrestins interact with clathrin to promote receptor internalization—one of the core paradigms in GPCR biology today. His studies in the model organism C. elegans have uncovered new roles for arrestins in the development of aging.

A committed educator and mentor of young pharmacologists and biochemists, Dr. Benovic's contributions to predoctoral and postdoctoral training have been recognized by awards from the Jefferson Graduate School of Biomedical Sciences and the Jefferson Postdoctoral Association. This devotion to mentoring young scientists and to the professional development of his students ensures that Dr. Benovic's contributions to pharmacology extend well beyond his own scientific discoveries.

Dr. Benovic will be presented with the ASPET–Julius Axelrod Award in Pharmacology at the Business Meeting and Awards Ceremony at the ASPET Annual Meeting at Experimental Biology (EB) 2014 in San Diego, California. The Awards Ceremony will take place Saturday, April 26, 2014, at 6:00 p.m. at the San Diego Convention Center in Ballroom 20 B/C. Dr. Benovic will give the 2015 Julius Axelrod Lecture. The 2014 Julius Axelrod Award Lecture will be given by last year's recipient, Lee Limbird, Ph.D., of Fisk University. Dr. Limbird will deliver a lecture, titled "Seasons of the Lives of Scientists: The Journey from Training Careers in Discovery to Service for Society," on Sunday, April 27, from 8:30 to 9:20 a.m. in Room 2 of the San Diego Convention Center.